World Forum on Controlled Natural Languages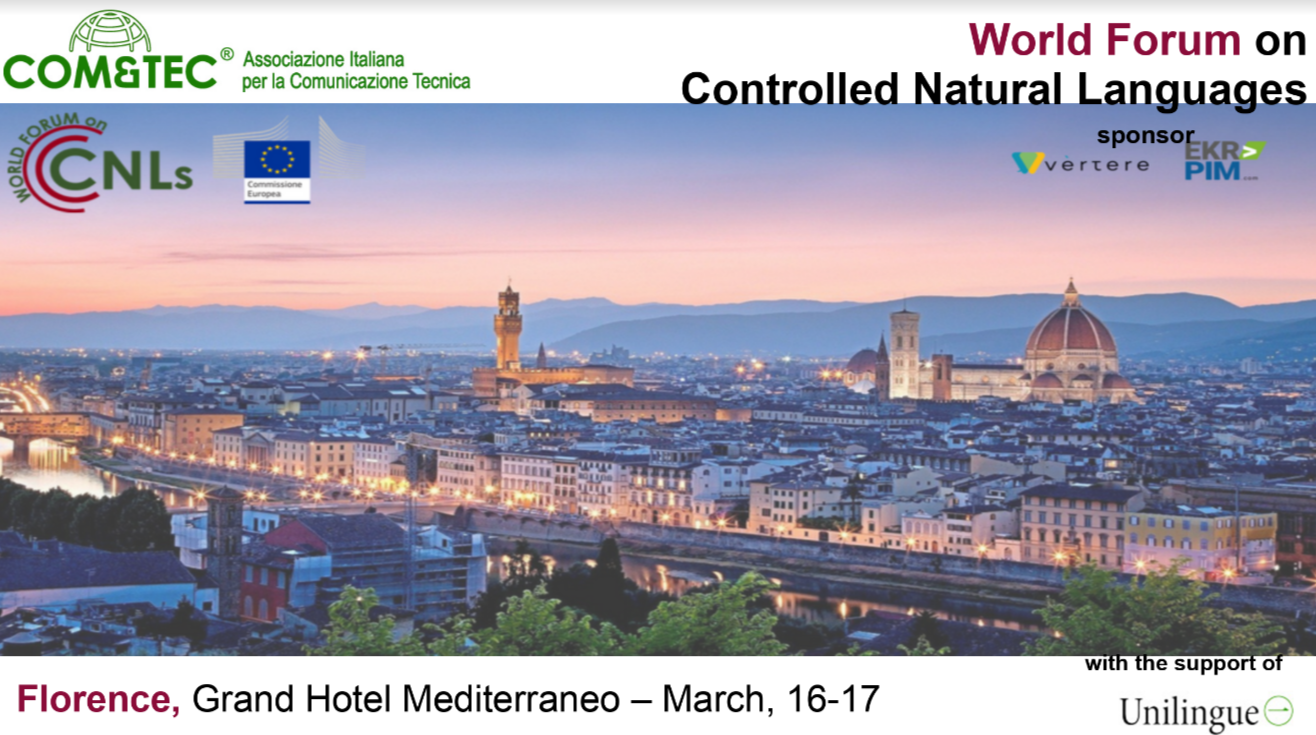 World Forum on Controlled Natural Languages
Florence, March 16-17 2018
GH Mediterraneo - Via Lungarno del Tempio, 44

COM&TEC is proud to announce the launch of the 1st World Forum on Controlled Natural Languages.
For the first time, COM&TEC will hold in Italy an international event gathering a lot of natural languages which created controlled linguistic systems to make technical texts unambiguous.
And for the first time ever, the World Forum will gather together most members of the ASD STEMG who will participate as speakers.
his two-day event will be a perfect opportunity to discuss the experience, creation, development, implementation (or any other important issue) on English-based and other than English-based Controlled Languages (i.e. Spanish, Russian, Japanese, etc.).
The Forum will include a plenary session, March 16, organized in cooperation with the European Commission and roundtable café and workshops session dedicated to different Controlled Languages, March 17.
The event is sponsored by VERTERE and EKR.
Presentations and discussion will be given in the presence of companies, professionals and the academic world.
The Italian case ITS Italiano Tecnico Semplificato is going to be presented as a peer controlled language which will be part of this two-day event as authoritative source method for Italian technical texts.
Practical applications and experiences gained with Controlled Natural Languages will be targeted at professionals from all across areas – to include Industry 4.0, Internet of Things, Artificial Intelligence, technology for Technical Writing, translation technologies, Content Management Systems, Semantic Web, among others.
Here the program.
Main topics of the World Forum on Controlled Natural Languages are:
- Artificial Intelligence and Intelligent Information
- UX, CX, AR
- Readability and readability indexes
- Computer-Assisted Translation and Machine Translation
- Semantic Web
- Parsing
- Language tools and Grammar checkers
- Authoring systems
- Regulations, Standards, and Directions
- Practical application and user experience
Target audience:
The World Forum on Controlled Natural Languages is targeted at companies, professionals in the field of technical communication, technical writers, technical translators, content architects, academics, experts and scholars in the field of Controlled Languages, etc.
Compulsory registration
For payment by Bank Transfer, free participations and special conditions shall be required directly to: events@comtec-italia.org
Registration Rate, COM&TEC Member – 150 € (plus VAT if due)
Registration Rate, Non-Member – 250 € (plus VAT if due)
Info contact:
events@comtec-italia.org
Venue Information: